Label
Studio Babelsberg: global leader in media IT
As a guideline for successful development in Babelsberg, the resident companies and institutions have created a common vision in a cooperative effort dedicated towards maintaining Babelsberg as Europe's most attractive IT media campus.

Companies based in Babelsberg are proud of their location that is internationally known for the quality of its film production. Babelsberg's excellence relies upon its comprehensive digital supply chain. 
In Babelsberg all participants act in concert. With commitment and a confidence born of experience, we are at work constantly to realize new ideas. Here, institutions, companies, and clients exist in a mutually beneficial relationship, and we strive to evolve with every new project we realize.
Our brand "Based in Babelsberg" encompasses the many facets of our media production capabilities: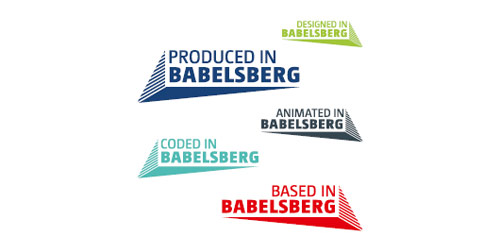 Brand ambassadors on-site may adapt this identity to their needs – of course, the German language is welcomed as well. In this way, Studio Babelsberg remains open to constant evolution and the enhancement of our international standing. 
BASED IN BABELSBERG – this the main identity which unites all output from Babelsberg. Whenever there is need for details about the location, supplementary information will be given that identifies the studio's many different individual aspects:
The place for media in motion.
This website is a window for all Babelsberg people. With your active participation, you help represent the location and its activities. Come and join! We would be glad to offer you our editorial support.
Downloads: