Imprint

BASED IN BABELSBERG  is an initiative of the state capital Potsdam and media.net berlinbrandenburg e.V.



Supported by the Brandenburg Ministry of Economic and European Affairs.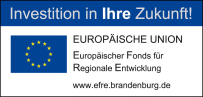 The website is co-financed by the Europäischen Fonds für regionale Entwicklung.

Edited by:
media.net berlinbrandenburg e.V.
Ackerstraße 3A
10115 Berlin
Telephone +49 (0)30 2462 857 - 10
Fax +49 (0)30 2462 857 - 19
www.medianet-bb.de
info@medianet-bb.de
Manager: Andrea Peters
Chairman: Bernd Schiphorst
Register court: District court Berlin-Charlottenburg
Register number: 210 86
Nz tax number: 27/672/51005
Responsible for content according to § 55 paragraph 2 RStV: Andrea Peters
Project management on behalf of
Regiestelle EFRE Interventions RWK
State capital Potsdam
Economic promotion
Friedrich-Ebert-Straße 79/81
14469 Potsdam
Telephone +49 (0)331 - 289 2820
Fax +49 (0)331 - 289 2822
www.potsdam.de/wirtschaft
wirtschaft@potsdam.de
Realization
MÜLLER MÖLLER BRUSS Werbeagentur GmbH
www.mmb-berlin.de
office@mmb-berlin.de
Data protection
This website uses Google Analytics, a web analytics service provided by Google Inc. ("Google"). Google Analytics uses "cookies", which are text files placed on your computer, to help the website analyze how users use the site. The information generated by the cookie about your use of the website (including your IP address) will be transmitted to and stored by Google on servers in the United States. Google will use this information for the purpose of evaluating your use of the website, compiling reports on website activity for website operators and providing other services relating to website activity. Google may also transfer this information to third parties where required to do so by law, or where such third parties process the information on Google's behalf. Google will not associate your IP address with any other data held by Google. You may refuse the use of cookies by selecting the appropriate settings on your browser. However, please note that if you do this, you may not be able to use the full functionality of this website. Using this website, you express your consent to the processing of data collected by Google about you in the manner described and for the purposes previously mentioned.
Disclaimer
Despite careful control of the content we assume no liability for the contents of these pages and the contents of external links. The responsibility for content lies with the operators of the respective linked pages.